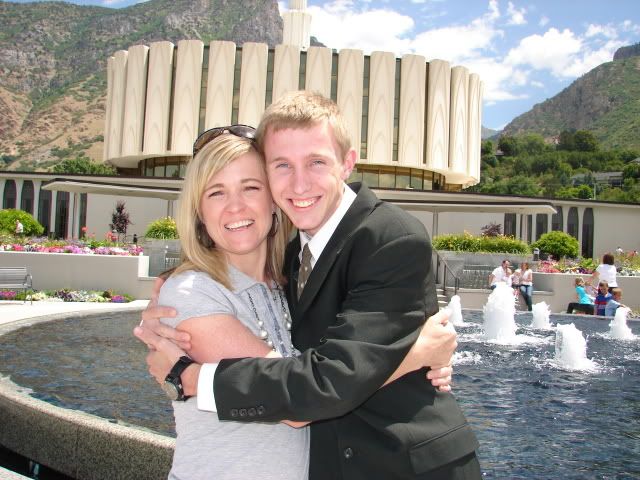 Today over on "Blissfully Jeanette" I talked about my correspondence with my dear Landon who is currently serving a mission in South Carolina and my sorrow in finding out that he didn't get my email today :(
Well the email that I received from him today was attached to the email that I sent him last week and in reading it again I decided to post some of the thoughts that I shared with him so that I would never forget them. So the following is an excerpt from my--
"Letters to Landon"
(which may or may not become an on going feature on this here blog)
...
...
In the gospel doctrine lesson that Dad taught yesterday we read an account in Luke about a woman "which had a spirit of infirmity eighteen years, and was bowed together, and could in no wise lift up herself"
Later in the scripture it talks about how the ruler of the synagogue got all bent out of shape because Jesus had healed her on the sabbath and Jesus answered:
"...ought not this woman, being a daughter of Abraham, whom Satan hath bound, lo, these eighteen years, be loosed from this bond on the sabbath day?"
Well this passage just leapt out at me as we read, "whom Satan hath bound" and I realized that so many of us
(if not all of us)
are not living the fullness of our missions here upon the earth because Satan has us bound in one way or another. He diminishes who we really are and we believe. The power of our God is so great that if we could only partly comprehend the magnitude of it we would be witnessing and participating in miracles every day of our lives. I know that I have fallen into this spirit of infirmity for far more than eighteen years and I desire so badly to be loosed from it. I take comfort from the words:
"And when Jesus saw her, he called her to him, and said unto her,Woman, thou art loosed from thine infirmity.
And he laid his hands on her: and immediately she was made straight, and glorified God."
I am so ready to forsake the lies of the evil one. He has kept me under his deceiving thumb for far too long. I remember when the Spirit asked me a few years ago, "How long are you going to let the father of lies deceive you? How long are you going to let him tell you that you are less than you are?" I know that it is time for me to come unto Christ so completely that He might loose me from these bounds and make me whole that I might go forth and glorify God. I know that there is so much more to this life experience and that most of us just live our lives simply scratching the surface of it all. I want to do more and I know that I can do more through Christ Jesus who strengtheneth me.
After the Spirit asked me those questions some years ago, he then said, "Walk with boldness. You are a daughter of God and as a daughter of God you can do anything." Wow, what a promise. And I know that it is true. Because of our Savior and His infinite atonement, we can do anything. The promised blessings that await us are mind blowing. What an opportunity we have been given by a loving Father. Oh how I hope to live up to it...
And thus ends this installment of "Letters to Landon".
And now I must go, for there is much work to be done if I'm ever to become all that I desire to
be.